Authentic Art Deco rings combining the appeal of the first truly modern design with the charm of antique and early twentieth century detail are much sought after. Striking and dramatic with geometric motifs which are not always linear, different gem cuts and heights, all white or vivid colours and often fine millegrain in crisp strong platinum mounts unique authentic Art Deco rings have a charm all their own which later interpretations have never completely captured. After all there is nothing to compare with an original!
An exceptionally beautiful Art Deco ring featuring a much sought after bright white period marquise diamond set in vivid half moon cut rubies. Vivid colour contrast was a distinctive feature of Art Deco jewellery.
2001 2960
See Detail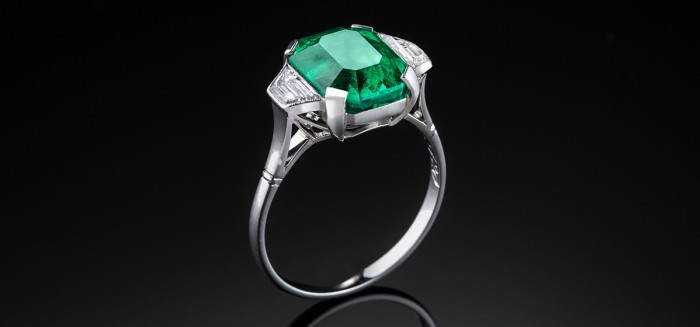 An exceptional and very beautiful French Art Deco large Columbian emerald and diamond ring.
20010126
See Detail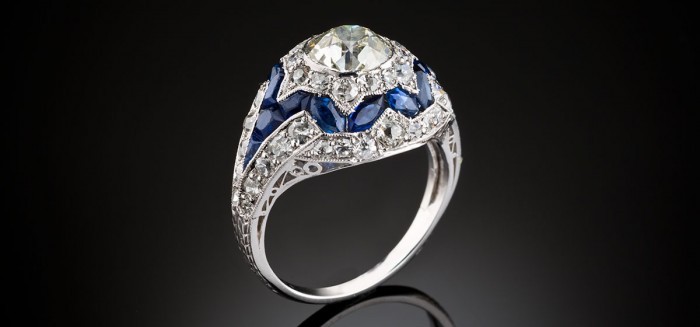 An impressive and very lovely ring which sits beautifully on your finger.
20005917
See Detail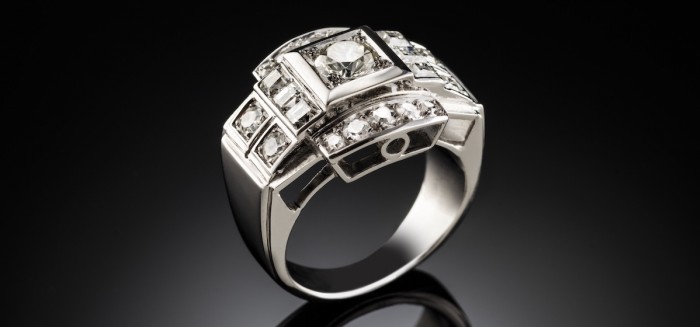 To wear when you do not wish to be ignored.
2001 0461
See Detail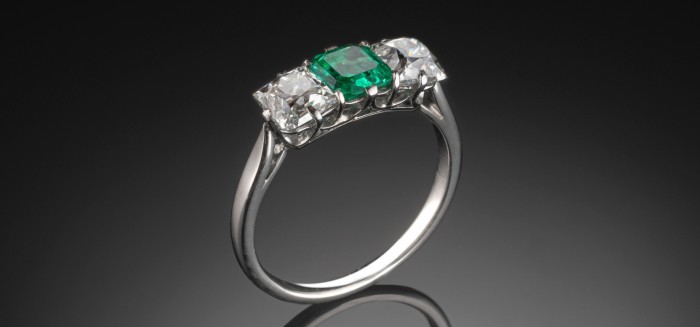 Three stone rings or trilogy rings, with the stones symbolising Past, Present and Future, are much sought after. An Art Deco trilogy ring with three old cut square stones is a wonderful find.
2001 2199
See Detail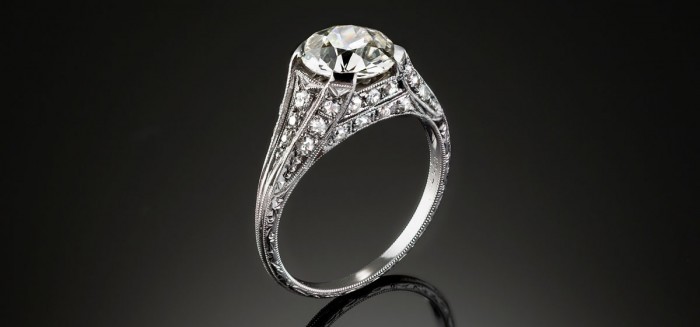 The epitome of Art Deco desirable design for the last ninety odd years - and into the future.
20008130
See Detail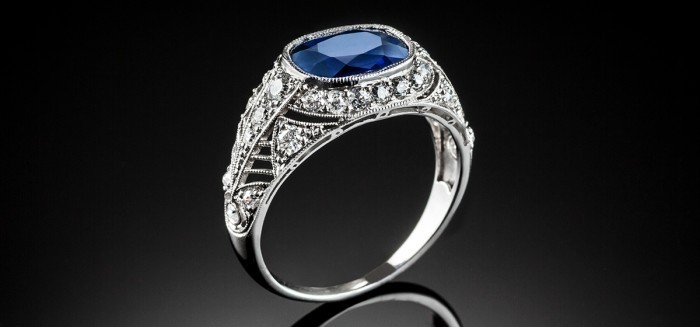 A superb ring for lovers of fine rings and sapphires.
20009397
See Detail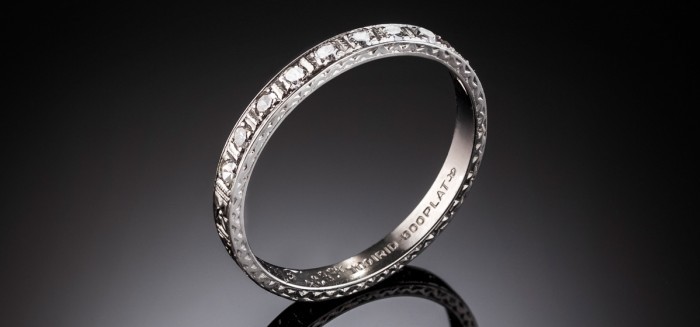 An Art Deco platinum/iridium band with diamonds, all over engraving and an engraved date from the period is always sought after, particularly as a wedding band with an Art Deco engagement ring.
2000 0936
See Detail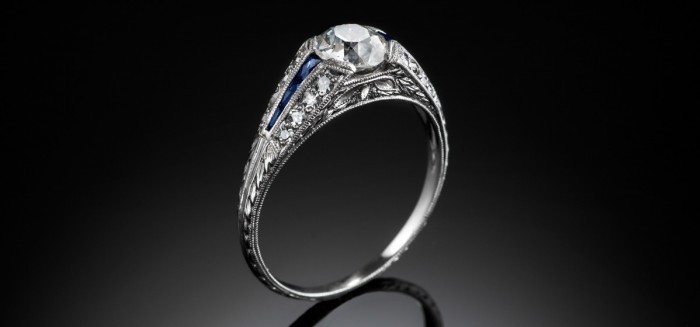 Classic design, sapphire accents and a delicately pierced gallery make this a very romantic Art Deco ring.
2000 0486
See Detail
An alluring and spectacular Art Deco filigree diamond cluster ring enhanced by a central old cut Champagne diamond.
2001 2526
See Detail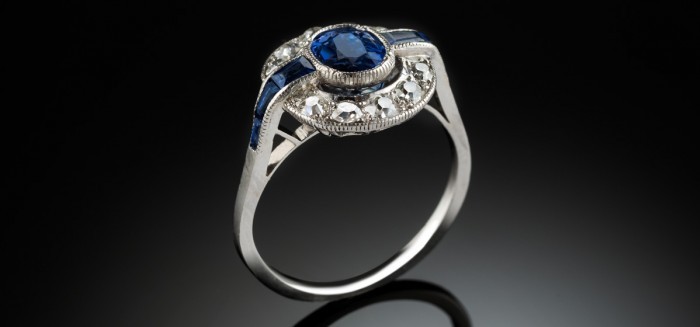 An Art Deco platinum, sapphire and diamond cluster ring with an eye catching difference.
2000 3166
See Detail
A superb authentic Art Deco emerald ring that you love is not always easy to find.
20007485
See Detail
Quintessential Art Deco ring with strong geometric design and colour contrast. Typically French Art Deco ring.
20009571
See Detail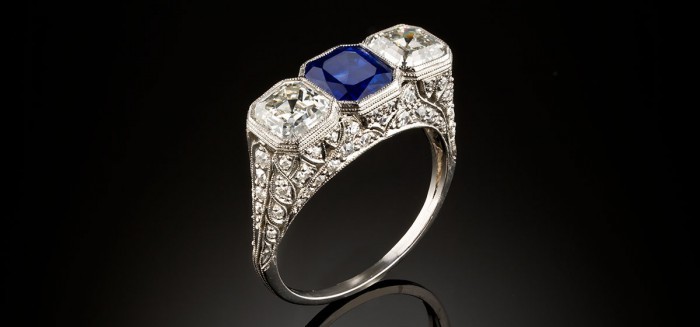 Close to perfection is always irresistible
20004651
See Detail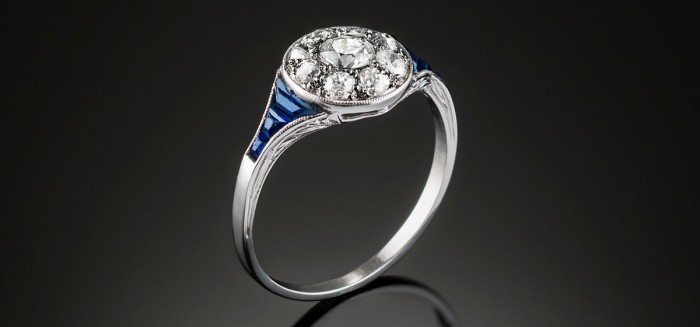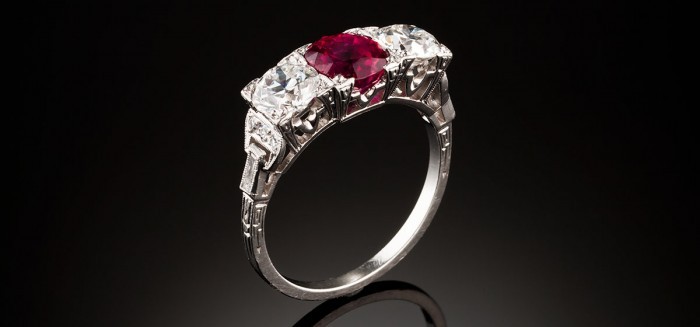 A superb fine ruby of a gorgeous rich red in a wonderful Art Deco setting.
20005054
See Detail
For lovers of Art Deco rings with strong geometric design.
20008024
See Detail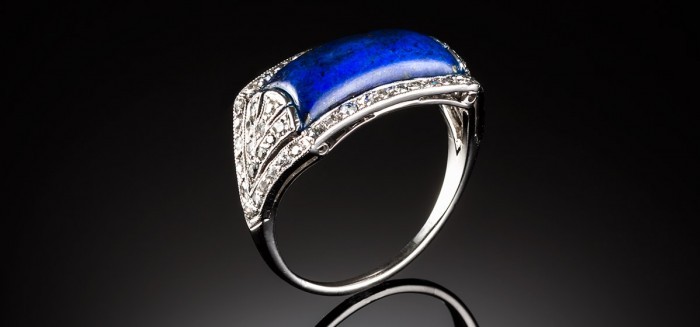 Lapis Lazuli and diamonds. So French Art Deco.
20006846
See Detail
The perfect dress ring you will find yourself wearing again and again.
2000.1407
See Detail