The majority of antique earrings currently worn are from the nineteenth and early twentieth centuries. Made generally of silver or gold or a combination they ranged from the very simple and light to the elaborate and heavy. Designs were often fanciful, ingenious and incredibly detailed. Embellishment took many forms- micro mosaic, inlays, enamels, cameos. Gem embellishment could also be just a simple garnet or a pearl or a substantial setting of precious gems. Designs were strongly influenced by current fashions. Very early fittings were at as simple as a ribbon attached into the hair or around the ear. This later morphed into a fine wire which looped around the ear which in turn morphed into a secondary security fitting. At times pierced ears were in fashion, at others they were not socially acceptable in certain classes. In the Art Deco period when piercing ear lobes was regarded as barbaric, screw fittings were utilised. The screw fitting invented around 1863 lasted well into the twentieth century but at times was worn with some apprehension. A pair of delicate Art Deco earrings we held had this early combination of screw fittings and a security loop around the ear. Antique earrings offer a rich variety seldom seen today.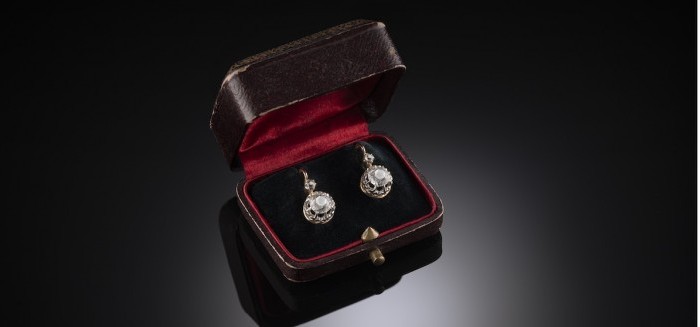 A particularly attractive pair of always much sought after antique paste earrings.
2001 0720
See Detail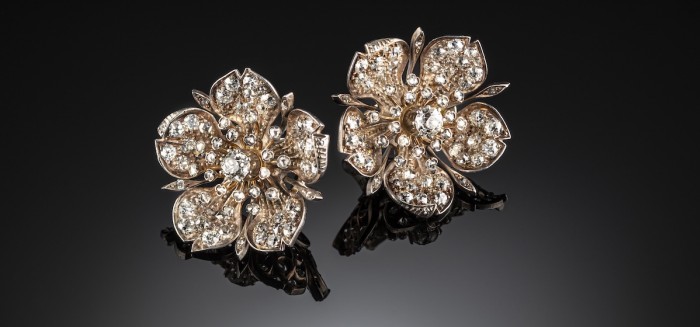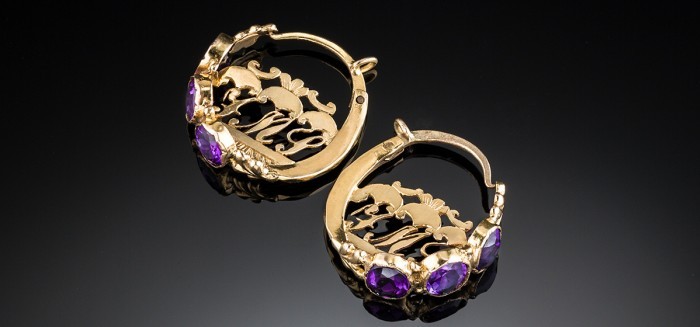 How many earrings feature their original owner's initials?
20009755
See Detail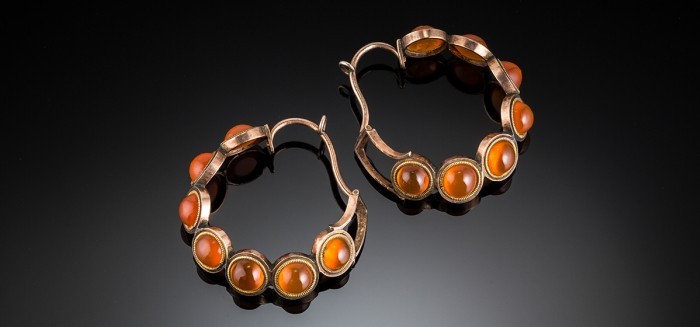 Superb hoop earrings are always sought out whatever the century and these are beyond superb.
20009731
See Detail
Gorgeously rich, elaborate and colourful.
20010195
See Detail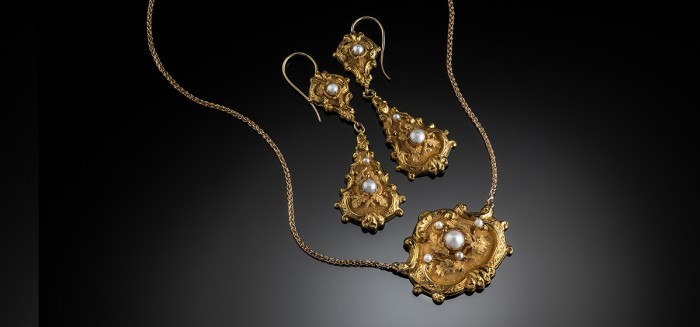 A richly detailed and striking demi parure.
20010089 (necklet); 20010072 (earrings) SOLD
See Detail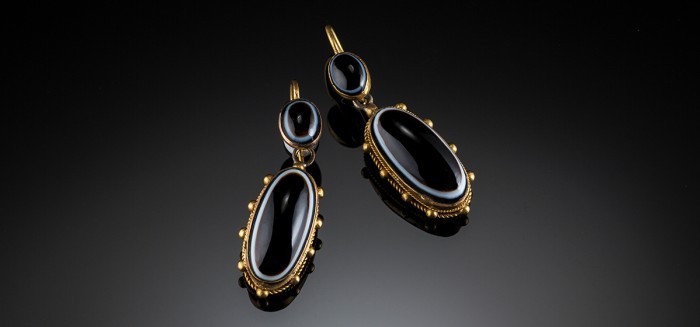 Particularly finely made and elegant antique sardonyx earrings.
20009793
See Detail
Difficult to find Victorian gold earrings with edgy stud embellishment and a very modern feel.
20000003
See Detail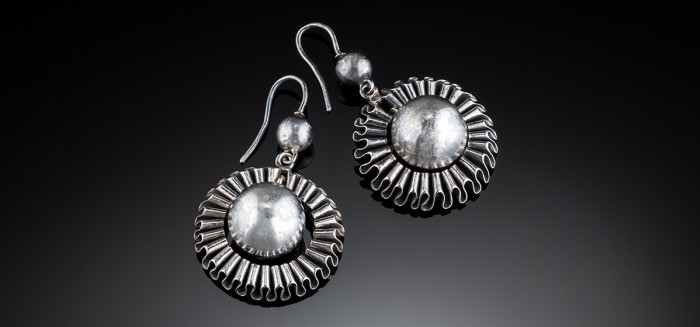 Such dramatic and modern looking antique silver earrings are extremely difficult to find.
20009830
See Detail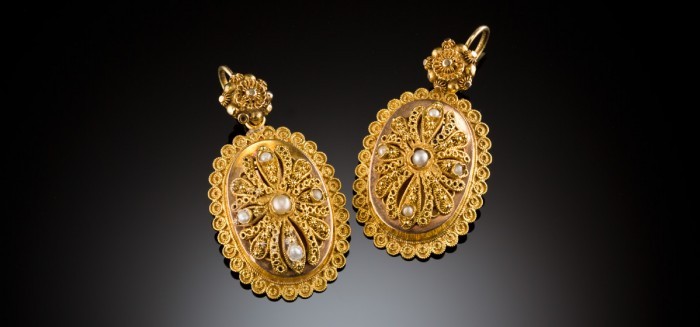 A splendid example of antique earrings decorated with filigree.
2000 4286
See Detail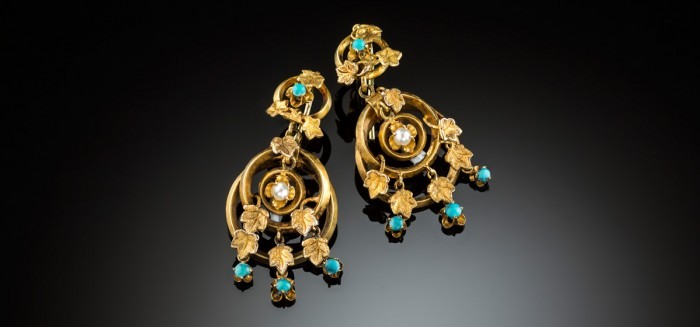 One of our prettiest pair of earrings with delightful movement.
2000 2633
See Detail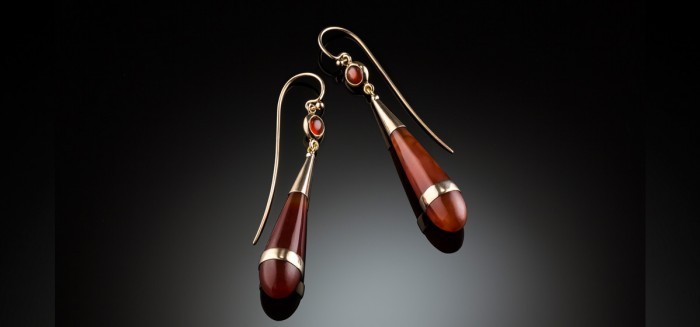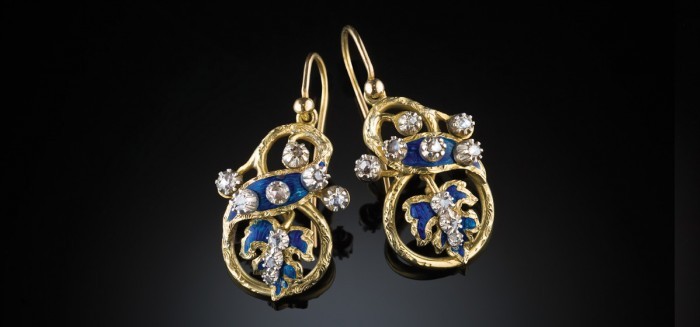 A pair of earrings with strong presence.
2000 0332
See Detail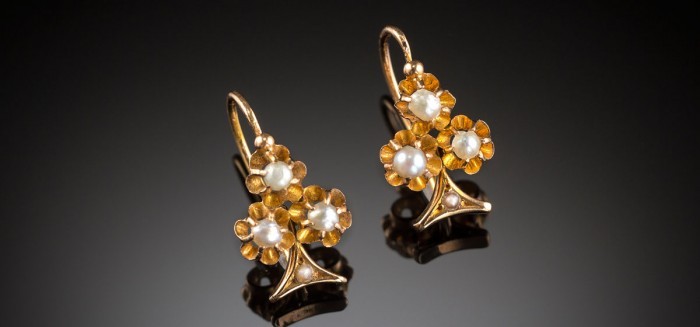 The perfect compact every day earring.
triple
See Detail