Mention Art Deco and immediately images of Art Deco bracelets come to mind. Generally narrow, and geometric set in platinum, often bejewelled, often worn in multiples or with a narrow gem watch and most often of platinum or at times white gold . As the period progressed bracelets became wider and more complex in design. Then there were the extravagant examples. Big, Bold and White. Or the gorgeous Tutti Fruiti and Japonoiserie inspired examples. The Tutti Fruiti designs were invented by Cartier jewellers when Cartier as a way of gaining entre into the Indian market brought back from India masses of what were considered inferior carved coloured gems and instructed the jewellers to create a way of using them. From such mundane beginnings came one of the rarest, most loved, enduring and recognisable Cartier designs.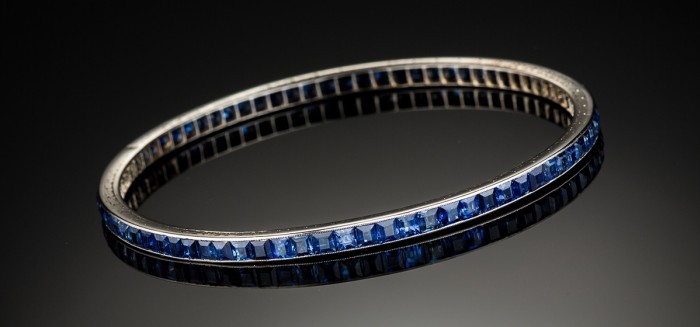 A wonderful example of an Art Deco sapphire bangle with channel set square faceted vivid royal blue sapphires and engraved edges.
20010225
See Detail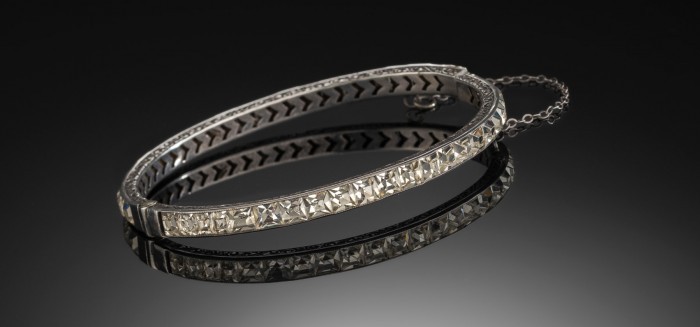 A quintessential Art Deco party bracelet
2001 3073
See Detail
Curved geometric motifs contrast with linear baguette cut diamonds in a unique not-so-geometric Art Deco bracelet for those who like to be different.
2000.1643
See Detail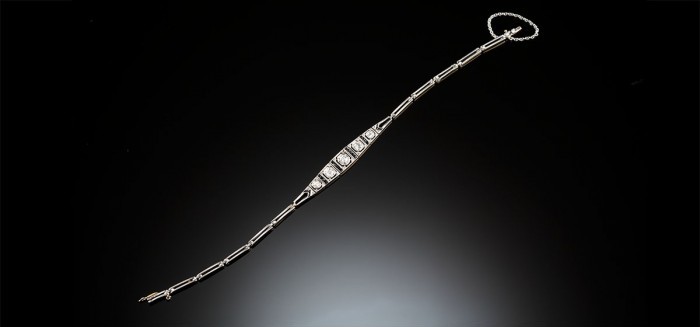 This delicate Art Deco bracelet with the always sought-after white diamond- black onyx combination will star in so many of your photos.
2000.6839
See Detail
Historic Art Deco Tiffany & Co at its most alluring. Read further for the fascinating story of this superb bracelet.
20004354
See Detail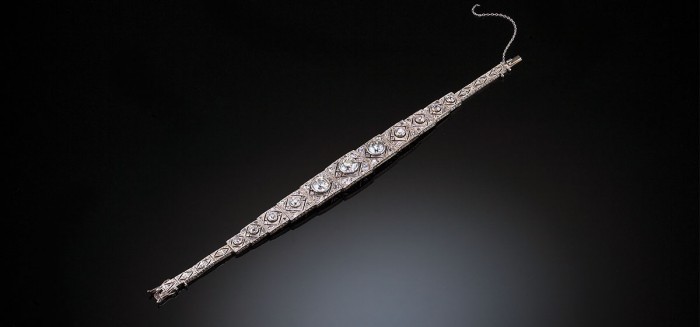 Fallen from the wrist of a flapper. Why not pick it up?
2000.0158
See Detail
So unique. So distinctive. So desirable. So Art Deco.
20008987
See Detail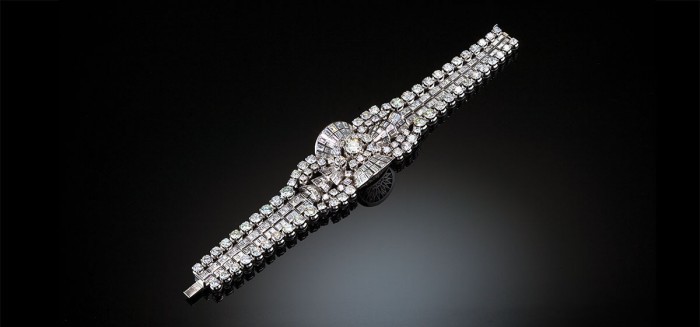 Serious significant occasion and Red Carpet jewellery. The essence of Art Deco thirtie's bracelets. Bold, white, feminine and very beautiful. An exceptional and impressive bracelet.
20000141
See Detail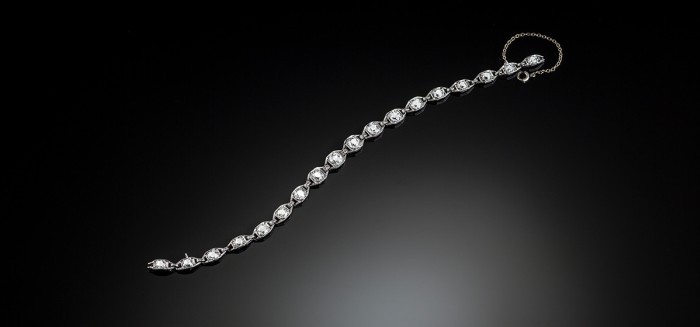 A Sharp Art Deco Diamond bracelet you will wear all day, then into the evening.
20009892
See Detail
A happy vibe bracelet you won't want to take off.
2001 3332 or 2001 3080
See Detail