Retro earclips the most popular form of earring in the forties evolved from the designs of the late thirties- compact, covering the lobe and / following the curve of the ear. From 1938 on largely due to the regulations controlling the use of precious metals during the war the majority of earrings were of thin sheets of yellow or red gold in bold naturalistic rather stiff or sculptural designs. These were set with smaller older precious gemstones or synthetic rubies and sapphires or less expensive citrines, amethysts, aquamarines or topaz. Shells, curled leaves, bows, rosettes and scrolls were all popular motifs. The less popular ear pendants of this period are often light chains or beads from the heavier surmounts. Towards the close of the decade an increased sense of movement and lightness heralded the designs of the fifties.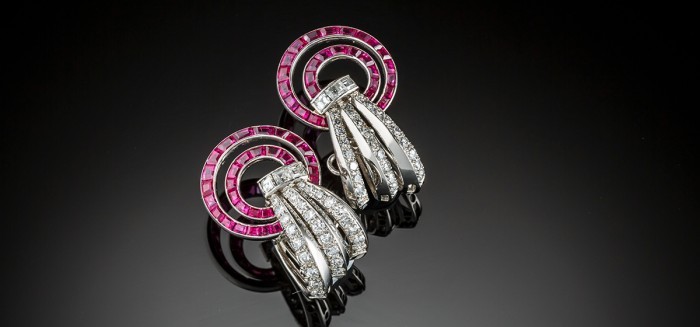 Striking. Colourful. Versatile. Wearable.........
20008970
See Detail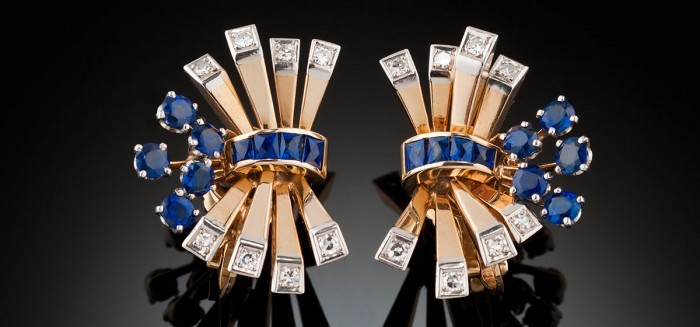 Join the celebrities. Wear a pair of stunning earrings by Trabert & Hoeffer- Mauboussin jewellers to the stars who adored their smart look-at-me jewellery in America in the thirties and forties.
20004429 SOLD
See Detail
Authentic antique, vintage and estate jewellery
26 Howey Pl, Melbourne VIC 3000 Australia