Antique necklaces. With the ascension of Queen Victoria to the British throne in 1837 and her influence on fashion and manners necklaces largely disappeared. The necklaces made were short and featured naturalistic elements - fruit, berries and flowers. Queen Victoria's engagement ring was a serpent and by far the most popular necklace of the 1840s and early 1850s was the serpent biting its tail with a heart shaped pendant between its teeth –the symbol of eternal love. These ranged from the modest to the head or entire necklace set with turquoise, diamonds or precious gems.
The décolletage and necklaces returned to fashion with increasing prosperity and the influence of the fashionable Eugenie in the 1860s and 70s. Fringe necklaces and necklaces epitomising the Classic Revivals - ARCHEOLOGICAL, ETRUSCAN, EGYPTIAN, RENAISSANCE and GOTHIC REVIVAL movements- became popular. These were of gold and incorporated drops of different Hellenic classical designs. Cameos , intaglios, ancient coins, micro mosaic with rich gold work of beads, motifs and gold techniques copied from or inspired by Hellenistic pieces.
In the last quarter of the century the increased availability of diamonds following the opening of the South African mines and diamonds became the preeminent gem incorporated into necklaces, chokers , colliers de chien, rivieres and fringe necklaces (which became increasingly light and delicate towards the end of the century) often convertible into tiaras. The end of the century saw the increased popularity of short pearl necklaces in various flower or star designs with a detachable pendant drop or as colliers de chien.
You won't be able to wait for St. Patrick's Day to wear this.
20000448
See Detail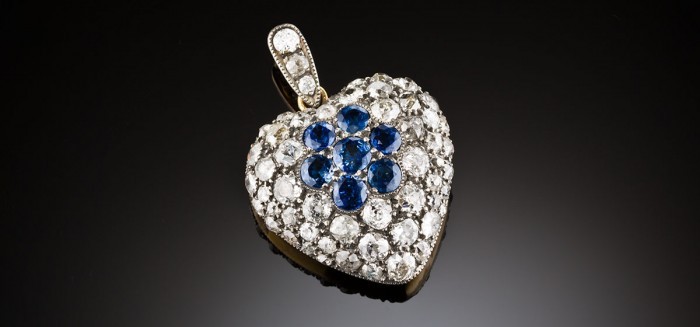 Always the favourite shape for a locket.
20005986
See Detail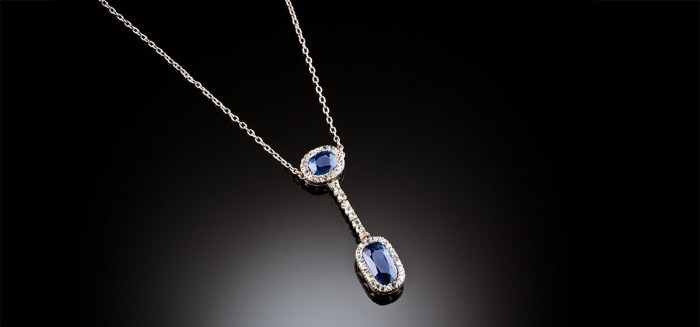 A particularly lovely sapphire double pendant necklace you will wear all the time.
2000.5979
See Detail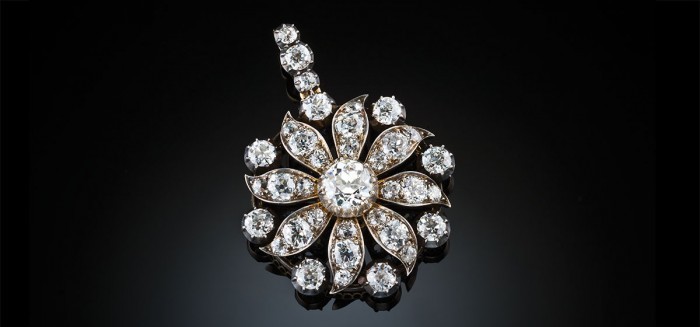 With typical Victorian practicality this very fine impressive and curiously contemporary looking jewel has most jewellery requirements covered.
20000424
See Detail
This multi-purpose brooch and pendant is right on target for contemporary lifestyles combining bold design with the charm and individuality of antique detail.
2000.2753
See Detail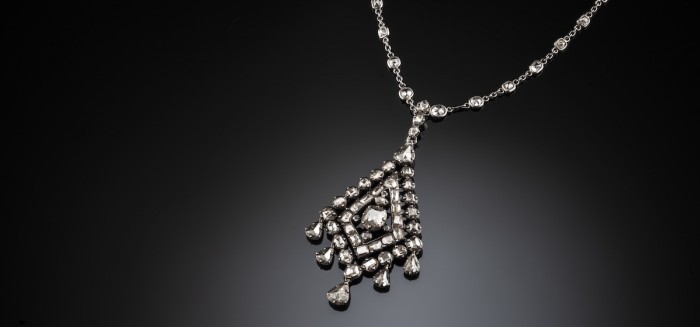 A lovely mellow eighteenth century diamond pendant for so many occasions. Just superb. It is not often you see such a piece. Featured here with an Art Deco Old European cut diamond and platinum chain. (20003234)
20010546 SOLD
See Detail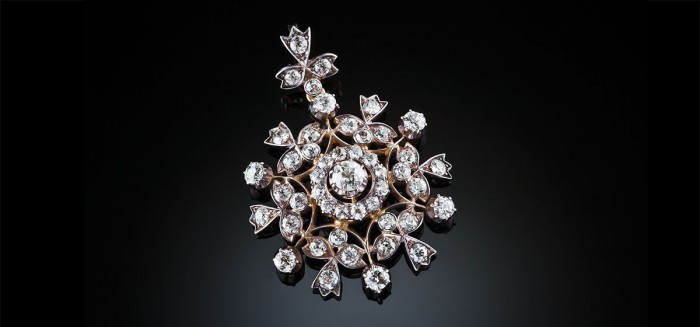 Imagine one hundred of these snowflakes on your Christmas tree. But then imagine just this one under your tree for the best Christmas ever.
20000981 SOLD
See Detail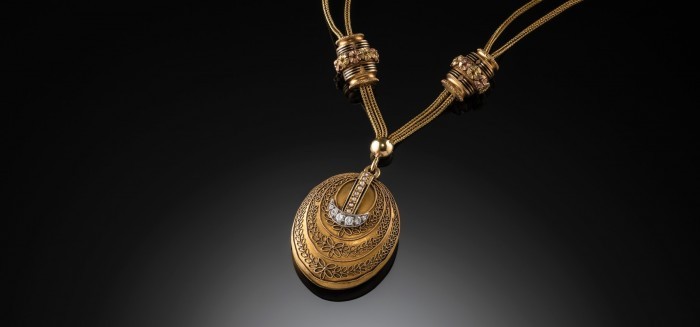 The ultimate antique gold and gem picture locket.
2001 1963 SOLD
See Detail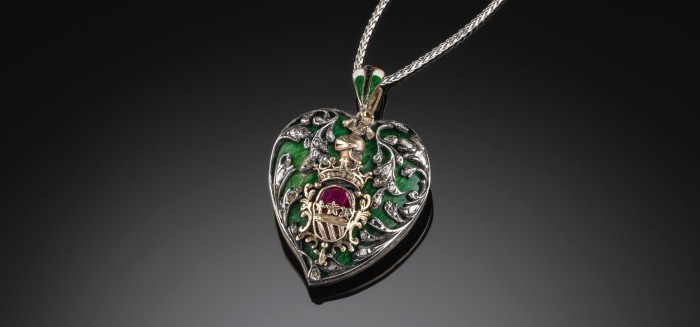 A very beautiful historic green enamelled heart pendant.
SOLD
See Detail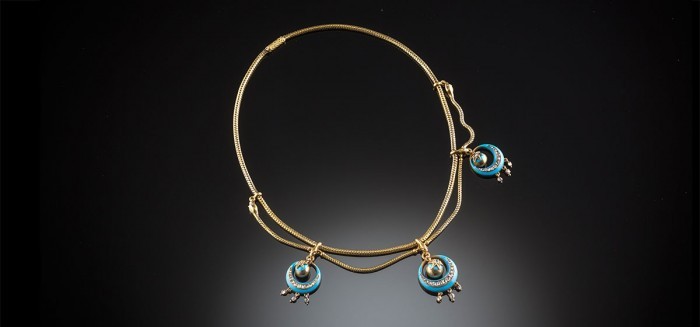 The perfect gift-of-love jewel - from yourself or another.
20008604
See Detail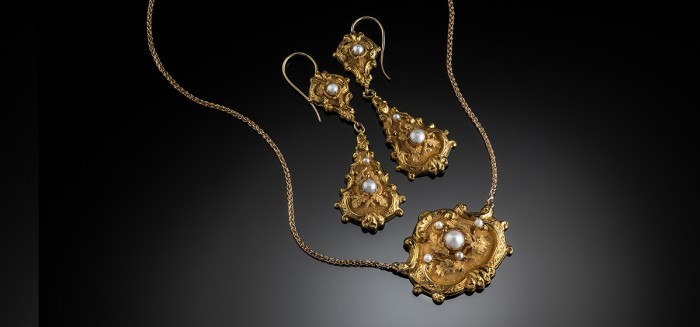 A richly detailed and striking demi parure.
20010089 (necklet) SOLD
See Detail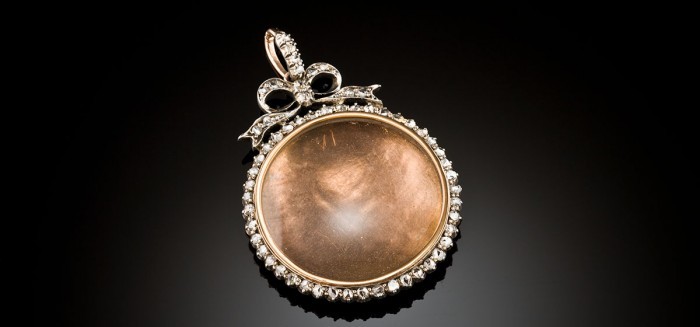 Reminiscent of eighteenth century romantic French pieces.
2000 3876
See Detail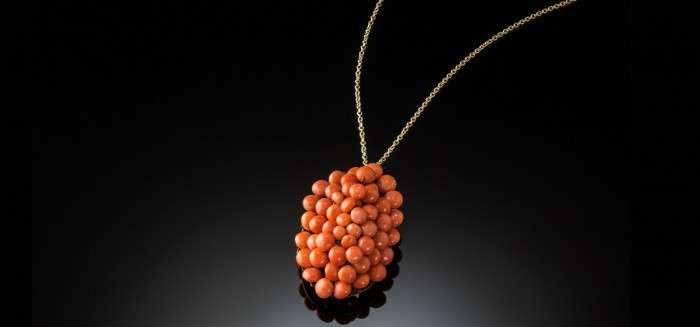 Casual, colourful and versatile.
2000 4385
See Detail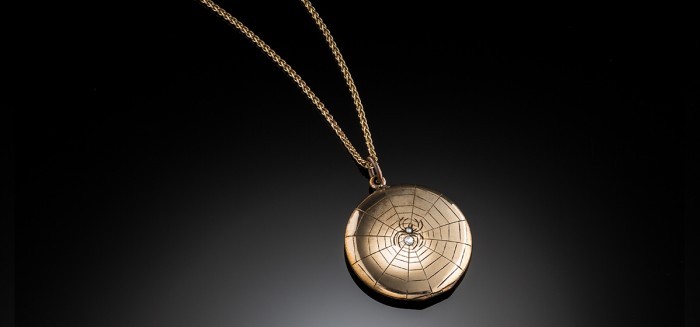 A slim medium sized locket pendant that you can wear every day is often surprisingly difficult to find, with gilt and paste proving the right inexpensive jewellery can look wonderful.
20010157 SOLD
See Detail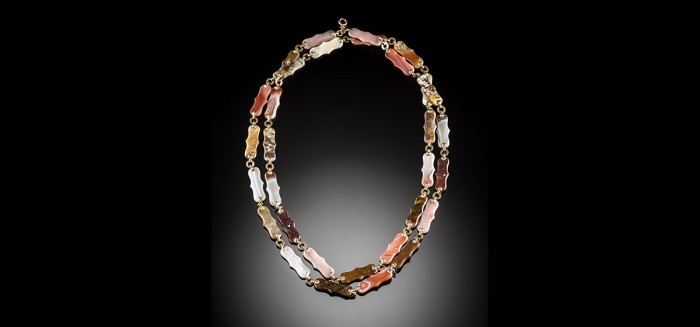 Supremely elegant but casual. You will wear this often.
20009137
See Detail
A very distinctive necklace to make an impact.
2000 3739
See Detail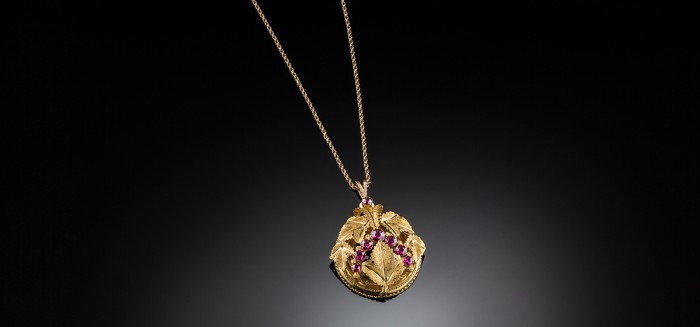 A beautiful pendant of richly textured gold and leaves embellished with rich red garnets.
20010096 SOLD
See Detail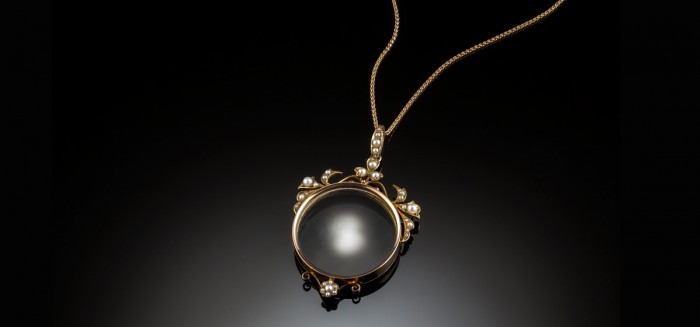 A rare piece of a brief period of Australian history to wear forever.
2000 2008
See Detail